Too many bends in the tunnel? Women serving Indeterminate Sentences of IPP
Describing the lived experience of an IPP sentence, the language used was universally stark, with the word "torture" being prevalent.
—
Indeterminate Imprisonment for Public Protection (IPP) is one of the most controversial sentences in the history of British sentencing. The plight of those stuck in prison on this, now abolished, type of sentence remains a priority for WIP's campaigns, as set out in our #OPENUP Manifesto.
Producing this study and report under the guidance of The Griffins Society, WIP's Sarah Smart spoke with women in prison on IPP about their experiences.

[IPP is] soul-destroying. A lot lonely, you are filled with hopelessness.
— Kel
IPP - The Facts
IPPs were introduced in 2005, enabling Judges to set a minimum time to serve (the tariff) but no maximum term. You are given no release date.
After the minimum term has been spent in prison, you have to apply for release from the Parole Board, effectively having to earn your way out of prison.
The sentence was meant to be reserved for the most serious offences but instead was over-issued.
The sentence was abolished in 2012 and deemed a mistake by its creator, the former Home Secretary Lord David Blunkett.
There are around 46 (as of June 2019) women still in prison serving IPP sentences (and around 2,400 men).
96% of women IPP prisoners in custody are over-tariff.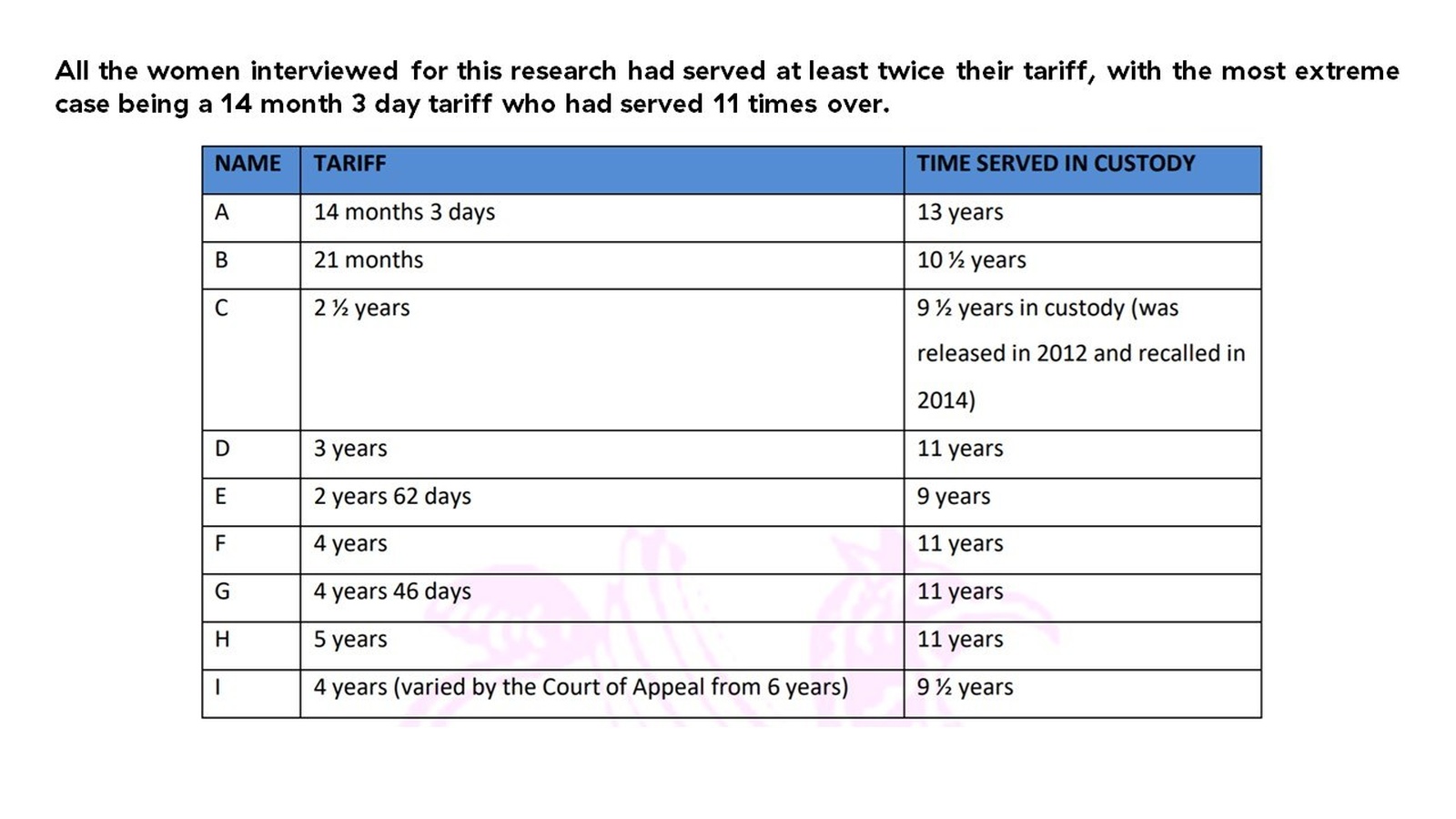 All the women interviewed had varying experiences of childhood trauma leading to alcohol and harmful substance use. Many had learning disabilities, language difficulties, autism and psychiatric diagnoses, including personality disorders, which had all played a role in their contact with the criminal justice system.
The study highlights that for many it is very difficult to understand the sentence when first received, and most of their families continued to struggle.
It's difficult for them [my family] to understand the IPP sentence - they can't get their heads around how I've been in prison all these years and I haven't killed anyone.
— Jane
Interviewees spoke about the injustice of the sentence, particularly as IPP has now been abolished but they remain in prison.
When they stopped giving the death penalty, they didn't then kill all the people that were awaiting death.
— Jane
This study provides a strong, narrative evidence that women on IPP sentences suffer injustice and profound institutionalism. All had experienced significant loss during their sentence. Most had children, all of whom were in local authority care. Many had experienced significant bereavements and had lost close family members, including parents. One interviewee's infant son had tragically died. All of these bereavements happened when the women were post-tariff.

All spoke about the adverse effect the sentence has had on their mental health. The word fear was repeatedly used.
My mental health has definitely declined...I'm afraid of being stuck here and I'm afraid of hoping and dreaming and I'm afraid of getting out. I've been out of the world so long that I fear it.
— Jane
All those interviewed have significant experience of poor mental health. Six women had tried to take their own lives multiple times. These attempts were predominantly triggered by feelings of hopelessness around the sentence and deferred Parole Board hearings.
Just give me the lethal injection. If they offered me the lethal injection I would take it. I don't want to be in jail no more.
— Lucy
The Psychological Significance of a Date
All the women felt strongly that the main internal barrier to progression was the indeterminacy of their sentence and that having a specific target end date would remove the pressure. An end date would give hope, and something to plan and work towards. The women would choose this above all else even if it meant significantly extending their sentence length.
Just give us a date...I can't see my future, what's there to look forward to?
— Lucy
You give up, because you think you're never going to get out.
— Collette
One of the biggest injustices and tragedies of the IPP sentence is that the longer you are in prison, the more harmed you are impacting on your mental health. As your wellbeing declines and hopelessness sets in the further away you become from being able to prove to the Parole Board that you are ready for release.
Furthermore, on a practical level it is very difficult to access the programmes you need to follow in order to prove yourself and be granted release. A historic lack of investment in rehabilitation programmes has meant finding courses can be difficult. This difficulty is compounded by those in prison being constantly transferred around the prison estate.
I haven't dealt with the past, I don't think I'm ever going to especially in prison because I can link some of the things they're doing to me to what I've had done in the past.
— Jane
Owning what happened to me as a kid and sharing with strangers...it used to leave me regularly shaking...The IPP sentence forces you to go through everything over and over and over.
— Pebs
Key Recommendations:
Recommendations include appointing a designated IPP caseworker in each prison and investing in wrap around 1-2-1 support in prison, continuing into release. The study also calls for IPP sentences to be converted to fixed term.

For a full list of the recommendations please download the Abstract Report.